The closed-down airport, the Gründerzeit era and a city waterfall
The site of the former airport impresses with immensely wide spaces that are larger even than Central Park in Manhattan
Situated in the City, opens now after 80 years an area larger than Central Park in New York, the first time the public.
In the thirties, this was one of the largest and most modern airports in the world.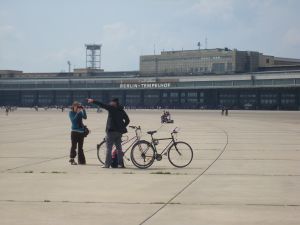 After the war, Tempelhof Airport by air bridge to sybolize the Cold War has become.
65 years after the war, the former Tempelhof airport opened its doors to the public. An incredible length with horizon as far as the eye awaits us.
We marvel at the curved terminal, take the middle of the runway, or on winding roads to the shooting range and aircraft wreckage.