The exceptional transformation of a working class area
Impressive Gründerzeit quarters, the best of Prussian architecture, the Jewish Quarter, idyllic riverwalks and charming backyards
We set off at Kulturbrauerei on Schönhauser Allee. Once Germany's biggest brewery, it has in recent years become a place with cultural importance in the district of Prenzlauer Berg. Across Kollwitzplatz, a square sprinkled with neat restaurants, our tour is leading us towards Checkpoint Bornholmer Straße from where we are going to trail the former wall for several kilometres.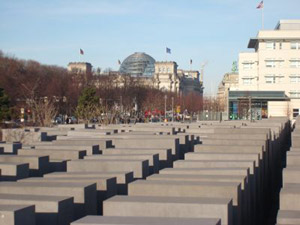 The history of Bernauer Straße is particularly remarkable, for the street was partially severed by the wall erected in 1961. In dramatic attempts to flee their homes, residents jumped out of their windows or dug tunnels to reach the western sector on the other side of the street. Today, a Memorial Park commemorates the events on this street.
Then arrive in the Jewish Quarter and its hidden backyards, its lovely side streets and all the buzzing around.
Farther on, Unter den Linden, the famous tree-lined boulevard beckons with Prussian splendours and the Museumsinsel (museum island). From here, we swing on to the Regierungsviertel (government quarter) and Band des Bundes, an alignment of government buildings just across the Reichstag Building.
The quarter's vastness and the transitions of the past leave you speechless.
Not far from the Tiergarten district and the park of the same name surrounding the Bellevue Palace, you can see the Siegessäule (victory column) in the centre a of a star-shaped roundabout.
But before we go, your chance has come take a picture in front of the Brandenburg Gate.
Just around the corner a beer garden invites us to take a break and rest our legs.
With our bones rested, we're prepared to explore Potsdamer Platz, the open air museum Topographie des Terrors (topography of terror) and Checkpoint Charlie.
From Gendarmenmarkt, indisputably Berlin's most beautiful square, our tour concludes with a visit to Bebelplatz, the Palace Square and Alexanderplatz.