Get around the Hackesche Höfe, an original Jewish hide-out, Heinrich Zille's favourite spot and a beehive of a ballroom
Take a trip through Old Berlin on our Walking Tour Scheunenviertel and Hackesche Höfe
Originally located outside the Alt-Berlin locality, the barn quarter was a storage place for hay stacks and straw that supplied the livestock market on today's Alexanderplatz.
As the repositories vanished, the place developed into a highly built-up area.
A poor Jewish community, workers from all walks of life and the so-called Canaille, an expression to describe the proletariat, started to settle this area close-by to Hackesche Höfe
On the adjacent manufacturing site of the locomotive factory Borsig, workers on varying shifts shared the few available beds among each other.
With the Scheunenviertel packed to the rafters, a seedy underworld came to life and nightclubs and prostitution blossomed.
Starting point of this Tour is Rosa Luxemburg Platz.
During our Walking Tour Scheunenviertel and Hackesche Höfe we do not only shine a light on the early days of the Scheunenviertel and Jewish life in Berlin, but also political issues, as within the boundaries of Scheunenviertel you find the former party headquarters of the Communist Party of Germany KPD, the political theatre Volksbühne and the landmarked building of the cinema Babylon, where the later head of the East German Ministry of State Security, Erich Mielke, shot a policeman.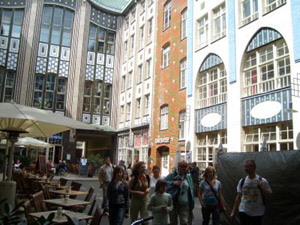 Through narrow alleys we're travelling back in time when dubious gangs of former inmates, known as Ringvereine dominated the neighbourhoods and prostitution mingled with a bohemian world to become German artist Heinrich Zille's favourite source of inspiration.
Another legendary place is the Mulackritze or just Ritze, a bar who counted Marlene Dietrich among its regular visitors.
On our Walking Tour Scheunenviertel and Hackesche Höfe we want you to get an authentic feel of life back in those days.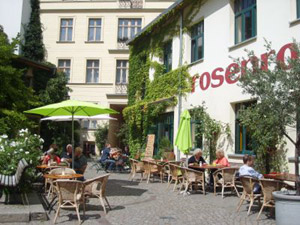 Next we will go to see the typical courtyards of this area. At Haus Schwarzenberg you get an idea of the housing situation of Berliners during the days of socialism. Hackesche Höfe and Rosenhöfe bear witness of a fierce modernisation and commercialisation.
Next stop on our tour is the Jewish Cemetery at whose gates stood a nursing home for the Jewish community and the former most beautiful synagogue in Germany, the Neue Synagoge (New Synagogue).
The old charming ballroom from the 1920s, Clärchens Ballhaus is the final part of our Walking Tour Scheunenviertel and Hackesche Höfe. At Clärchens Ballhaus people have been dancing the floors for nearly hundred years now. The hall of mirrors on the first floor, where only established members of the noble class were allowed in, and the dance floor downstairs really get you into a dancing mood. Good news. You can. At weekends even to live music.
Join us on this wonderful Tour of Berlin of the 1920s, Jewish Life in Berlin and the Hackesche Höfe.