The Berlin Wall Memorial, guard towers and escape tunnels
Get authentic insights into Cold War history and the fateful decision that shook the world
On our cycling tour we follow the traces of the Wall and the Division.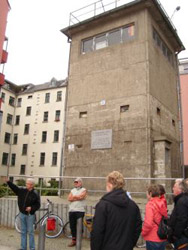 We hear about the people involved, the development of the Wall and its collapse. History becomes alive.
The tour is heading along the original border for 8 kilometers and includes the visit of a watchtower, the Berlin Wall Memorial, Bernauer Straße and Regierungsviertel (government quarter).
20 years after the collapse of the Wall this tour is a highlight for every visitor.