You'll know Berlin like the back of your hands
Group bookings only
Our tour "3 days Berlin on bike" is ideal for those who want to learn more about Berlin as selected impressions.
We show not only the traditional highlights, but also hidden corners, secluded riverside walks, prefab neighborhood in the east, hip quarters in East and West and travel many Kilometers during this trip by bicycle to the former death strip.
You will be amazed at how good "experience" in Berlin on bike can be.
On request we can reserve selected restaurants and places to recommend in the afternoon a cool and refreshing drink.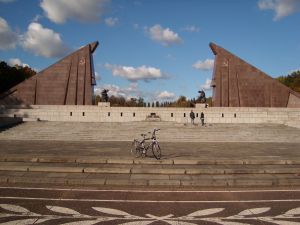 On 1 Day we start our 3-day cycling tour "Berlin on bike" in the suburb of Prenzlauer Berg. Next to the former Jewish quarter with back yards, alleys and vibrant life. Unter den Linden offers Prussia flying colors. According to Brandenburg Gate and the government district, it is cosy. We cycle along the banks of the Spree and discover ways of Bellevue Castle, Charlottenburg Palace as well. Over from the Kurfürstendamm, it goes to the Potsdamer Platz and Checkpoint Charlie. The last part of today Alexanderplatz.
The 2nd Day is marked by the East and the Wall´s history. First it goes deep into the eastern part of the City. Stasi prison, housing estates and a charm beyond the trend districts dominate the landscape. The former border crossing Bornholmer Straße talks about the fall of the wall. Now it is about 17 Kilometers along the former border. Window jumps in Bernauer Straße, Berlin Wall Memorial and an old border guard tower dominate the landscape. Across Mitte and Kreuzberg we go now to the longest preserved section of the Wall at the "East Side Gallery". There are bars, which invite the end of our second day Berlin on bike a well-deserved cold drink.
On 3 Day it goes along the former Stalin Allee in Friedrichshain neighborhood scene with stories of squatters, bar district and the scene is changing. Suddenly the picture changes. We expect the banks along the way Rummelsburger Bay and the Peninsula Stralau. Hughes lakes, marinas and a wide horizon give amazing impressions. The Soviet Monument stands by its size and architecture. It continues with the bike to Kreuzberg. We expect a kind of fortress, multiculturalism, old and new stories and riverside walks along the Landwehr canal. About North Neukölln we drive into the grounds of former Airport Tempelhof. On the runway, it goes to the Bergmannstraße neighborhood with houses and the early days lively pub scene.
Here is a wonderful place to drink at the end of our 3 days Berlin on bike a well deserved beer.