Entertaining city tour or multimedia presentation of Berlin
For your company event try a customised city tour of the German capital with Travelxsite
Company Bike Tours
Short and sweet or Day Tour plus dinner? Either way, on this tour you get an authentic insight into historical backgrounds of the main attractions and the sights that make Berlin so magical.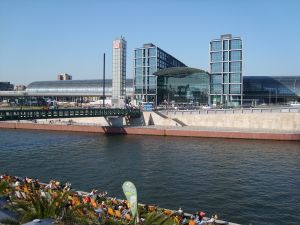 Our guides know the best spots, restaurants or beer gardens with riverview. The tour will conclude with a nice and cooling drink at the beach bar.
Company Walking Tours
We got a selection of Walking Tours for companies and their staff. We also offer hotel pickup at selected hotels. On this Tour you get background information to Berlin's main attractions and sights with special regard to interesting details of the city, urban development, as well as future projects.
Company Bus Tours
Beside the classic sights you can choose from a variety of other attractions in Berlin. If you got a taste for the political side of Berlin for example, we got you covered! You're welcome to send us a request.
Company Walking Dinner Tours
This walking tour combines culinary delights with sightseeing. Fine food takes turns with Berlin's finest attractions.
Multimedia Presentation
Are you going on a seminar? Or will you be in Berlin on a company outing? We offer multimedia presentations of approximately 40 min. that get you in the right mood for your stay.